Stewardship:  It's Not About Money!!
Stewardship is not just about giving money to the church.  This year, the Stewardship Team is focusing our efforts on the need to be Present in our dealings with family, friends, church, and God.  This is one of the pledges we make when we join the Methodist Church.
In this past year, we have depended on technology more than ever before.  Has it begun to replace personal contact?  Has it replaced our presence in people's lives? Have we gotten too attached to our devices?  
The Stewardship Team is preparing calendars that we hope will help us to become more personal in our interactions with other people. Attached are calendars for September and October that focus on neighbors and the community.
Each day lists an activity to help increase our presence in the lives of our family and friends.  Other suggestions are listed on the side, and there may be activities not listed that are more appropriate for you. 
The idea is for us to make a conscious effort to be present in our relationships.
How to use this calendar:
Every day, either do the activity listed on the calendar, or do something else that causes you to be present in someone's life.  
Document on the calendar what activity you did to be present in someone's life.

(We know there is not much room, just jot down a note.)

Tell us how you did!

Share your calendars and/or pictures with us and we'll post some of them online. You can post your pictures on social media and tag @kennesawumc or send them to us via email to dimitri@kennesawumc.org.
Right click the images to download them (Save As…)
September and October Calendars
Right click the images to download them (Save As…)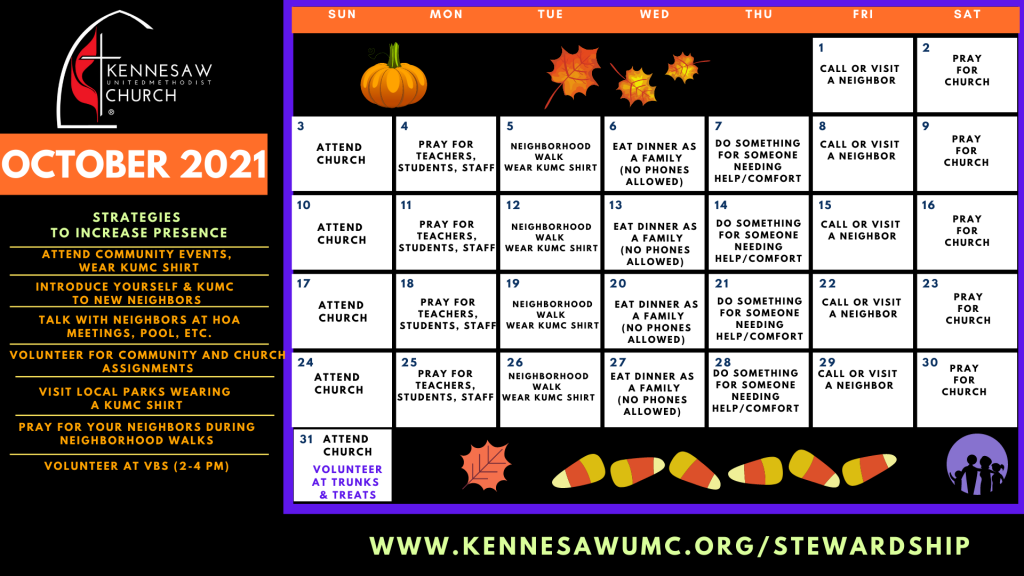 Sunday School Options
Dig digger into the word and join one of our Sunday School classes!
Click Here